San Diego Natural History Museum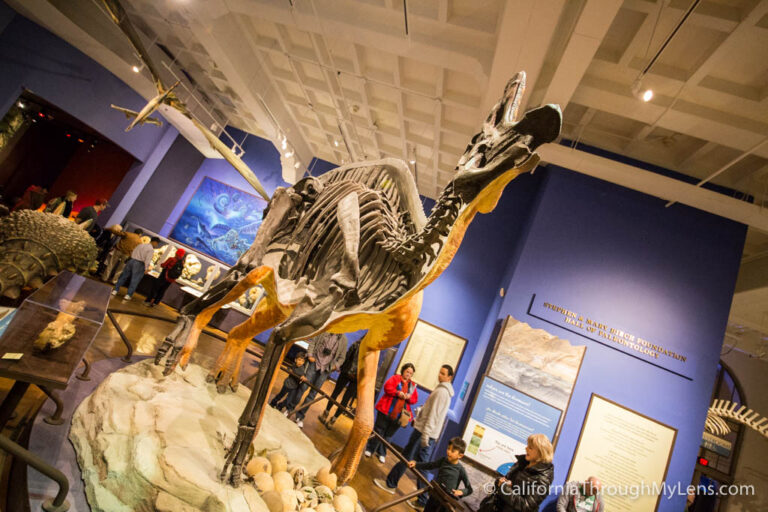 ">San Diego Natural History Museum. (Thenat).
It's possible to be really interesting in the real world. San Diego Natural History Museum, theNAT offers an overview of the natural history and current events in Southern California. There's plenty to see at theNAT, including rattlesnakes, flesh-eating bugs, dinosaurs, fossils, and a pendulum to prove the earth is spinning. Visitor will find the interactive, unique exhibitions on five floors impressive. The museum features a giant-screen theater with daily showings, as well as rotating exhibitions that bring nature to life.
Permanent offerings include Fossil Mysteries and Coast to Cactus in Southern California, which together serve as a walk through the region's prehistoric past and biological present. You'll travel through a period of 75 million years from the time of dinosaurs to present day along the way learning all about this amazing place we call home. Skulls showcases 200 of the finest animal skulls from museum collections. Extraordinary Ideas from Ordinary People – A History of Citizen Science allows visitors to examine treasures from Research Library. This includes rare books and artwork as well as historical documents. Enjoy fun programs for the whole family, from adults to children with interesting talks to guided hikes.
Many permanent exhibits are housed at the NAT, such as Coast to Cactus and Fossil Mysteries and Skulls. The latest presentation at the San Diego Natural History Museum's The Subaru Giant Screen Experience will amaze visitors. This stadium-style theatre offers a superior viewing experience with a huge screen and 300 seats.
The San Diego Natural History Museum is committed to sustainable operations and maintenance lending to the achievement of LEED Certification.
The trademark LEED(r) is owned by U.S. Green Building Council (r). It is allowed to be used only with permission.
History
Allosaurus at San Diego Natural History Museum. The San Diego Natural History Museum was established from the San Diego Society of Natural History which was created on October 9, 1874.
George W. Barnes founded the Natural History Society.
It is the oldest scientific institution in southern California, and the second oldest west of the Mississippi.
In its initial years, the San Diego Society of Natural History was the region's primary source of scientific culture, serving a small but growing community eager for information about its natural resources. E. W. Morse was a former president of San Diego's Lyceum of Natural Sciences. He established a Volunteer County Weather Service, which in 1875 created Torrey Pines State Reserve Anza Borrego Desert State Park. Part of the Society's lot was used to build the Hotel Cecil. In June 1912, members began meeting there.
The San Diego Society of Natural History appointed Kate Stephens, an authority in marine and terrestrial mollusks, to be its curator.
These included the personal collection of her husband, mammalogist ornithologist Frank Stephens , who donated over 2000 bird and mammal specimens to the Society in 1910.
In June 1912, Katherine and Frank Stephens installed the Society's first museum exhibits at the Hotel Cecil, where they could be viewed by the public on selected afternoons.
Exposition Buildings, Balboa Park
Many people supported the 1915 Panama-California Exposition Balboa Park. They expressed their interest in purchasing buildings left over from the Exposition. Because Balboa Park was not owned by the City of San Diego, this made it difficult.
G. S. Thompson, supporter of museum, proposed that "a private museum corporation can occupy city-owned structures in a park if the museum authorities keep exhibits free of charge, that is, they will have no admission charges and be open to the public at any time." The museum eventually occupied three different buildings from the Exposition in Balboa Park, none of which was ideally suited to museum use. The vacant Nevada State Building was purchased by the Society for $500 in 1917 from the Panama-California Exposition Corporation. San Diego Natural History Museum was born when the Society moved the growing library and collections into the building.
From 1917 to 1920, Frank Stephens was the first director.
The Board stated that its mission is to "educate and help people understand and love nature."
It used specimens drawn from museum collections to create educational outreach programs that were shared with local and county schools.
Many of the Exposition buildings were intended to be temporary. This two-story Nevada building was constructed with Spanish-Renaissance trim and its flanking wings and arcades. Park Commission gave permission to the museum for it to use the 1915 Foreign Arts Building. This building was renovated in 1920. The museum moved into the 1916 Canadian Building, which was previously known as the 1915 Commerce and Industries Building. It was officially opened on December 9th, 1922. It was intended that the museum would eventually merge both buildings.
William Templeton Johnson Building, Balboa Park
From 1922 until his death in 1946, Clinton G. Abbott was the museum's director. Under Abbott, the museum was capable of building and moving into long-term quarters.
Guy Fleming Laurence M. Huey Laurence M. Klauber were other notable naturalists/curators of this time. In 1925, concerns over the safety of existing museums buildings were raised by a nearby fire. A permanent museum with sufficient size to withstand fire and earthquakes was needed by community leaders.
Ellen Browning Scripps, a significant benefactor of this building project was.
William Templeton Johnson (San Diego's foremost architect) was appointed by the Society of Natural History in 1932 to design its new museum structure on Balboa Park's East Prado. Johnson, who was known for designing the Fine Arts Gallery (now San Diego Museum of Art), and the San Diego Trust & Savings Bank among many other buildings, had a great reputation. The museum building combined Spanish and Moorish touches. It is a line of arches made up of yellow and white tiles, which are covered by a balustrade.
The construction of the permanent headquarters was made possible through a grant of $125,000 from Ellen Browning Scripps , and by public subscription. The building's full cost could not be funded during the depression years. It was possible to build only the first unit at the south-end of the lot. One wing facing the north couldn't be built. As temporary walls for expansion in the future, the north and east facades of buildings were kept bare. They remained that way for sixty years. On January 14, 1933, the $175,000 Natural History Museum Building was officially dedicated.
World War Ii
The Society was notified on March 8, 1943, that the United States Navy wished to take over the Natural History Museum for hospital use at once, becoming the infectious diseases ward. The facility was renovated, with the addition of an elevator to transport hospital gurneys between floors. Both features remain in use today. The U.S. Navy takeover of the museum building for the duration of World War II resulted in damage to the collections, exhibits, and the building itself.
The main library and its librarian were moved to San Diego State College ; the rest of the treasured and fragile exhibits were hastily packed, crated and moved into a total of 32 separate places. Larger exhibits were stored in the North Wing on the Main Floor. Clinton G. Abbott, director, and four members of his staff were restricted from accessing the basement.
On July 1, 1949 major renovations began after employees were granted permission to reoccupy this building.
Forced to look at all collections and exhibits by this rehabilitation process, the board adopted a firm policy to restrict collections to the southwestern United States and northern Mexico. In spite of periods of financial stress, the museum saw steady growth after World War II San Diego. The American Alliance of Museums accredited the museum in 1974.
2001: Postmodern Expansion
View down from the lobby to interior atrium
View of the atrium, north side, showing blue whale and entrance to library exhibition.
Michael Hager was appointed President and CEO in 1991.
Robert F. Smith led the museum's strategic planning. His efforts focused the museum's collections strategies on Baja California and southern California. They also developed the Biodiversity Research Center of Southern California. This center is an Environmental Science Education Center which collaborates with Mexico.
In April 2001, new design and construction more than doubled the size of the 1933 building, from 65,000 square feet (6,000 m2) of usable space to approximately 150,000 square feet (14,000 m2). New Postmodern-style facade was added to the entrance, as well as a glassed atrium. The project architects were Richard Bundy and David Thompson Architects Inc.
Also, new areas were created for administrative, educational and research activities.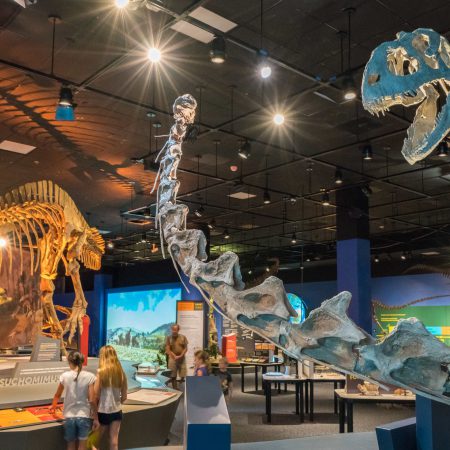 Research Library
Extraordinary Ideas From Ordinary People: A History Of Citizen Science. San Diego Natural History Museum Research Library.
Library collections include complete natural history reference libraries, rare books, Klauber Herpetology Library, map collection, and a Klauber Herpetology Library. A. R. Valentien's botanical watercolors and George Miksch Allan Brooks' wildlife paintings make up the Library's art collections. Library archives contain a lot of historic photographs, as well as many field notes collections such the ones of Laurence Klauber, a herpetologist (available online at Internet Archive), Frank Stephens Laurence M. Huey, and Charles Russell Orcutt. The Museum's permanent exhibit Extraordinary Ideas from Ordinary People – A History of Citizen Science draws from many of the libraries rich collections.
San Diego Zooarchaeology Laboratory
San Diego Zooarchaeology Laboratory is responsible for identifying faunal assemblages at archaeological sites within San Diego County, California, USA, and ancient Near East. This information refers back to San Diego Natural History Museum's scientific collection. Incorporated in 2010, the SDZL collections contain over 46,000 bird species and 22,650 mammals. Over 7000 complete bird skeletons are available, as well as over 1,400 partial ones. This collection contains 90% of worldwide bird families. There are 1,605 species. The current collections include over 1,000 complete mammal and 20,000 skulls. They are growing. A team of in-house specialists is available to provide expert knowledge in the areas of botany, paleontology marine invertebrates. Entomology. herpetology. To provide an understanding and perspective of antiquity's use of animals, the SDZL documents and collects zooarchaeological data (specimens or literature), fosters cooperation research and informs the public about regional zooarchaeological studies. Additional training is provided by the SDZL to volunteers and students in zooarchaeological procedures and methods.
.San Diego Natural History Museum